Emem Isong-Misodi is an award-winning, screenwriter, producer and now director in Nollywood. A holder of a Bachelor of Arts degree in Theatre Arts from the University of Calabar, Emem ventured into film making in Nigeria when it was not fashionable to do so. She boldly launched her own production company, Theatre Images in 1994, after resigning from a job in the bank.
Since then she has not looked back and but has gone on to produce the following award-winning movies, 'Breaking Point'(1996) 'A Minute to Midnight' (1997)', 'Emotional Crack'(2003) winner of the Reel Awards for Best Actress and Best Upcoming Actress of the Year respectively. 'Private Sin', 'Promise Me Forever', 'Critical Decision' winner of the AMA Best Actress and Best Actor of the Year Award, 'Games Women Play', 'Behind Closed Doors', 'Games Men Play', 'Ekaette', 'Fatal Imagination', 'A Piece of Flesh', 'Unfinished Business' , 'Mfana Ibagha', 'The Wrong Woman', 'A Time to Love' and much acclaimed 'RELOADED' (2008) a film that was nominated for African Movie Awards (AMAA) for Best Scriptwriter, Editing and Best Music and won several awards including City Peoples Award for Best film, Best Producer of the year and Best Screenplay.
She later set up Royal Arts Academy a frontline media school that contributes immensely to youth empowerment in Nigeria by teaching talented young people how to act, write scripts and edit films. The company which is situated in Surulere, also has a production arm and a film distribution/marketing section and has produced several award winning movies such as 'Guilty Pleasures', Bursting Out, 'Kiss & Tell', 'Catwalq' (a soap) , 'I'll Take My Chances' and the star-studded movie, 'Weekend Getaway' 'Lagos Cougars', 'Knocking On Heavens Door', 'Apaye; A Mother's Love, ' Cougars: The Series, Love is The Hair, Ayamma, Champagne, 'Body Language', Getaway:The Series. Emem is known to be a producer that has the knack for recognizing and nuturing talent and is credited to have discovered several A list actresses and actors in the industry today. She has also contributed immensely to the development of film production in Akwa Ibom State when she pioneered the making of films in Ibibio language with productions like 'Mfana Ibagha', 'Ekaette', 'Uyai', 'Edikan', 'Uduakobong', 'Idomo', 'Udeme mmi'.
Internationally, Emem recently collaborated with Nollywood Workshops, an American based NGO (financed by the Gates Foundation) that aims to build bridges by sponsoring movies that promote of positive social change in Africa. That collaboration resulted in the production of 'Code Of Silence' a critically acclaimed film on the dastard effects of rape in a community. She was also interviewed by NPR, a world renowned Washington-based online radio station on her impact in Nollywood
http://www.npr.org/2013/01/04/168589567/nollywoods-female-pioneer-aims-for-global-audience
She was recently a guest of Prof. Matt Sienkiewicz at the prestigious Boston College's Communication and International Studies where she gave a paper and screened on of her movies 'Apaye' to a moved audience.
Some other Movies by
Emem Isong Misodi
---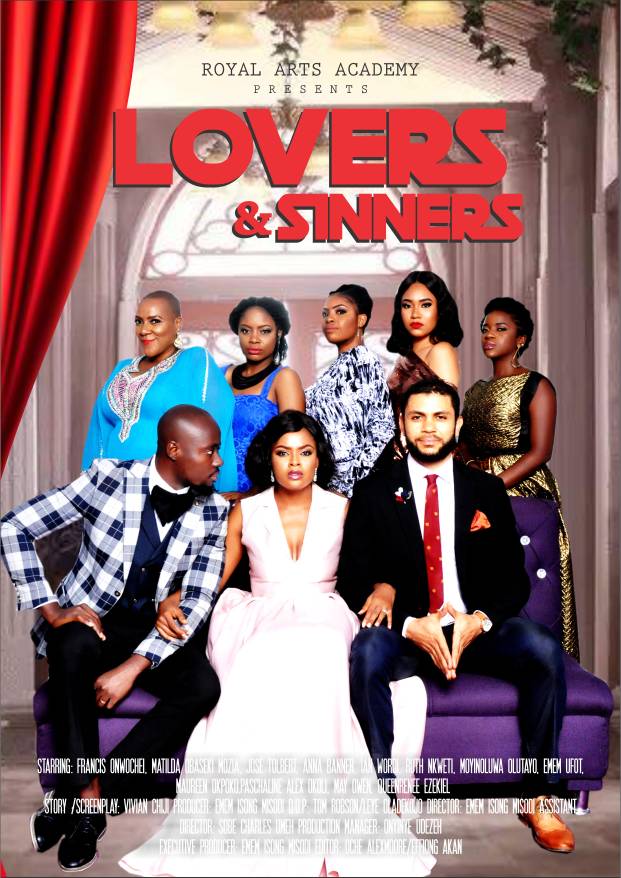 Title: Lovers & Sinners
Genre : Drama
Episodes: 26
Duration: 26"
Synopsis:
The best way to overcome temptation is to partake". 'Lovers and sinners' mirrors the life of Pastor Brume Braithwaite, a charismatic preacher and a symbol of perfection whose only cross is the sultry devious beauty he shares a roof with. Walking through his thick shadow of darkness, he finds an unusual ray of light in the image of yet another beauty, a temptress of sorts and a totally unavailable woman.
---